Public Notice of October 2019 Quarterly Session
October 07, 2019
Public Notice October 2019 Quarterly Session
---
Public Notice of Special Session Feb 5, 2019
February 01, 2019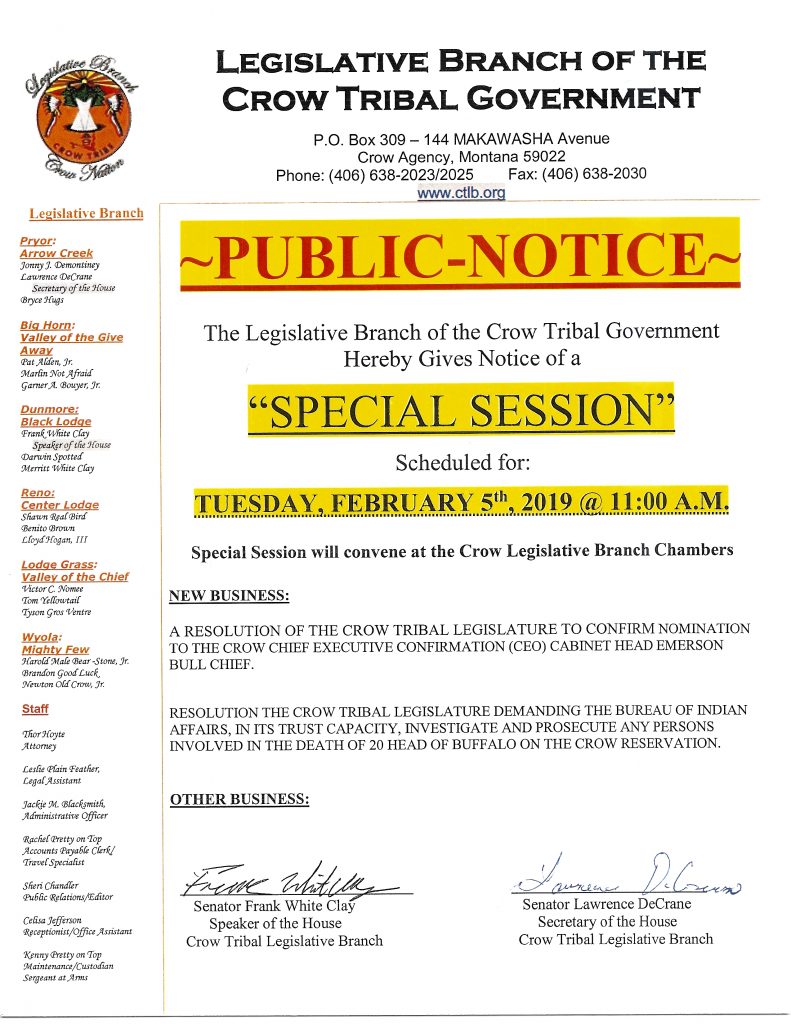 ---
Speaker Whiteclay letter of incomplete financial reporting by Chairman Not Afraid
January 17, 2019
Speaker Whiteclay letter of incomplete financial reporting by Chairman Not Afraid https://www.ctlb.org/wp-content/uploads/2019/01/speaker-letter-no-complete-financial-reporting.pdf
---
Chairman Not Afraid Financial Report
January 17, 2019
Executive Chairman Not Afraid Report dated Jan 14, 2019 https://www.ctlb.org/wp-content/uploads/2019/01/exec-report-chairman-not-afraid-1-14-2019.pdf
---
Public Notice of Upcoming Dates
December 12, 2018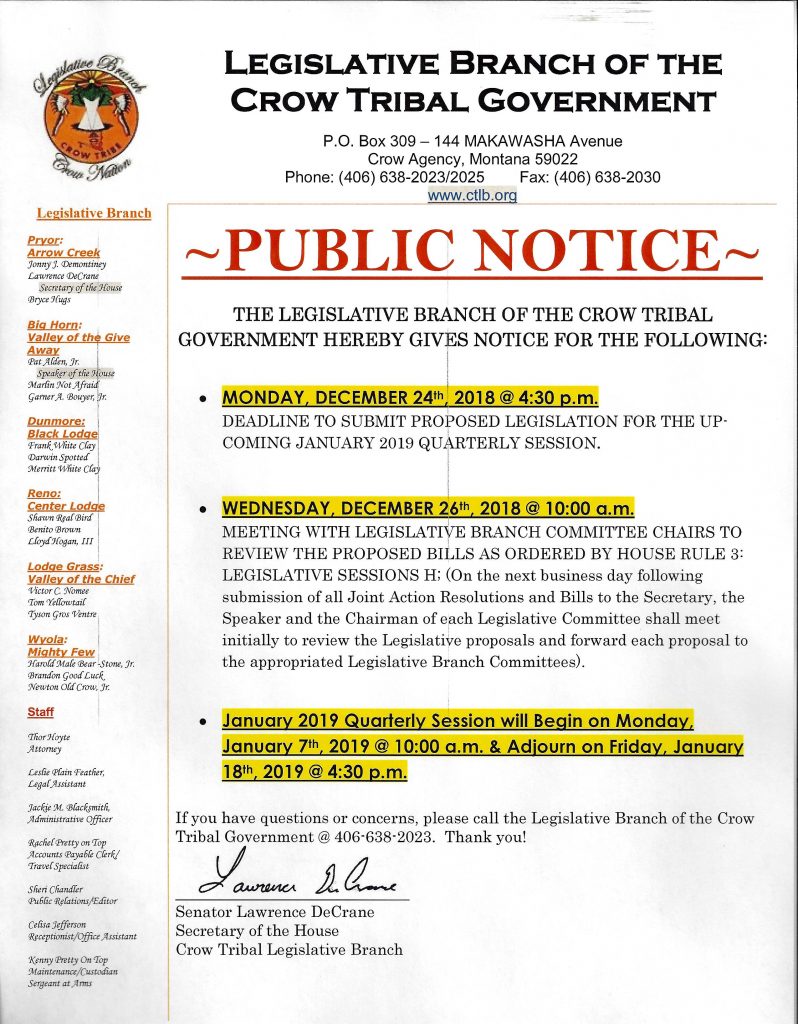 ---
CANCELLED! Public Notice of Special Session
November 15, 2018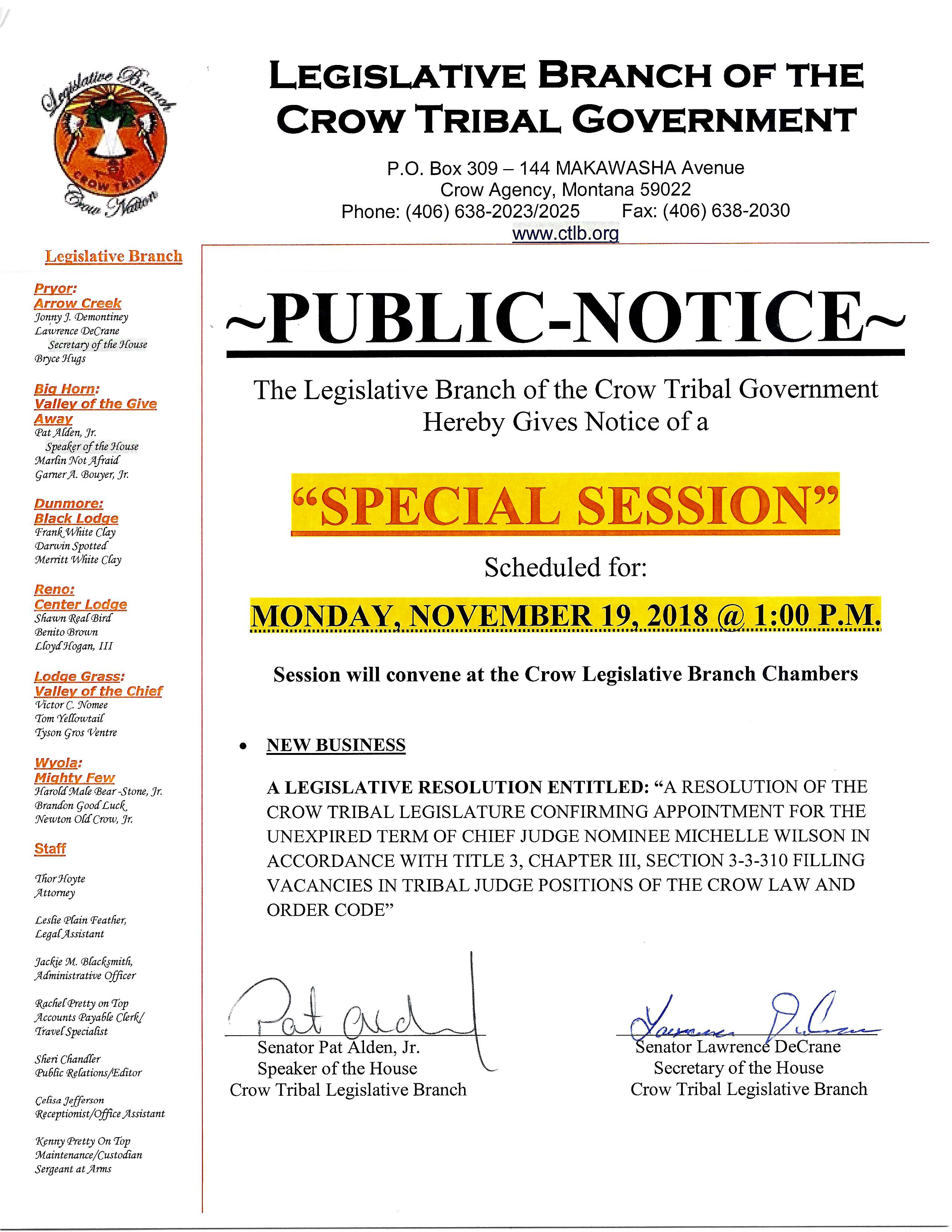 ---
Public Notice of Special Session
November 13, 2018
---
Public Notice of Special Session Nov 9, 2018
November 07, 2018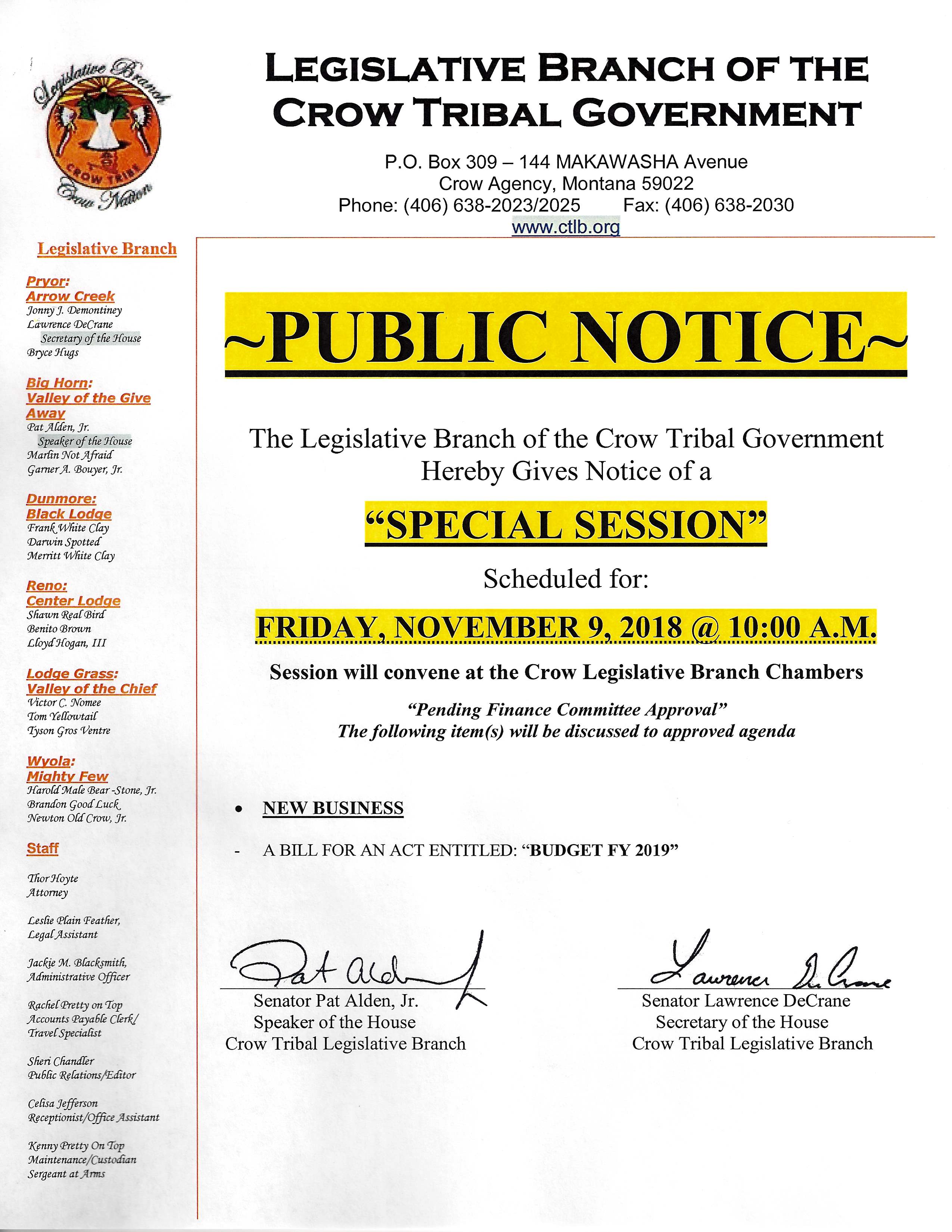 ---
Media Release re: FY19 Budget Nov 1, 2018
November 01, 2018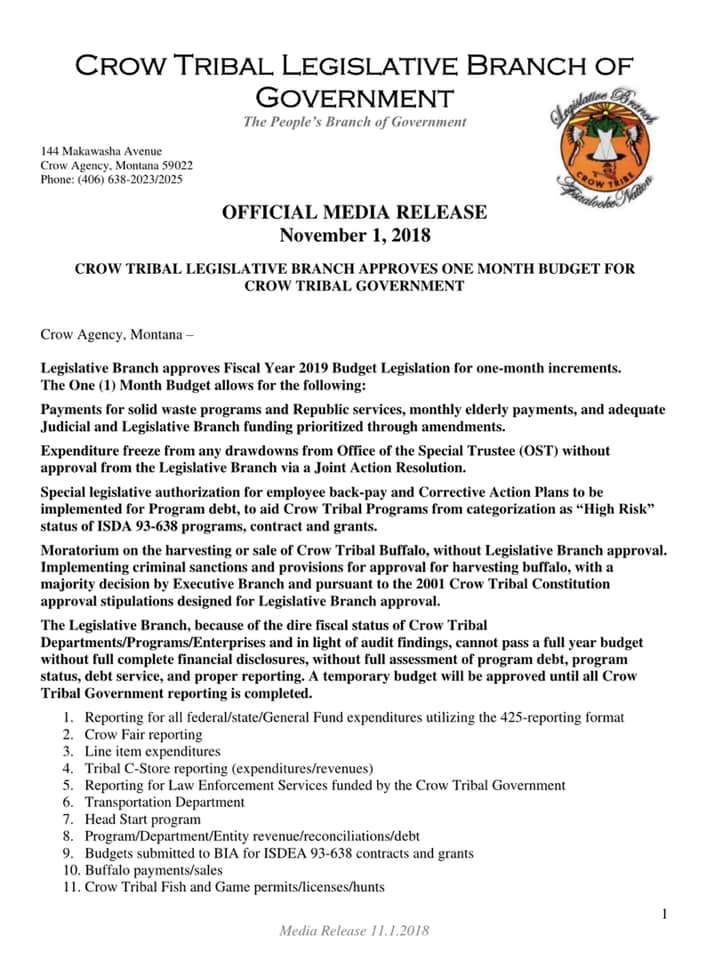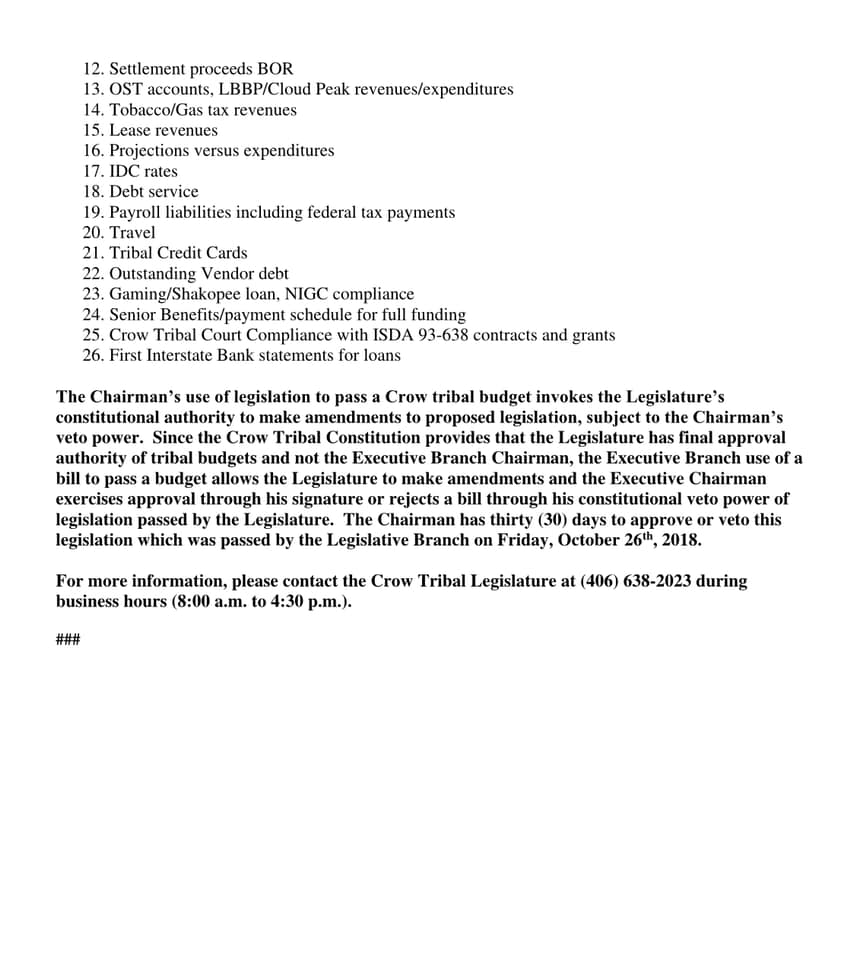 ---
Press Release re: FY2019 Budget
October 05, 2018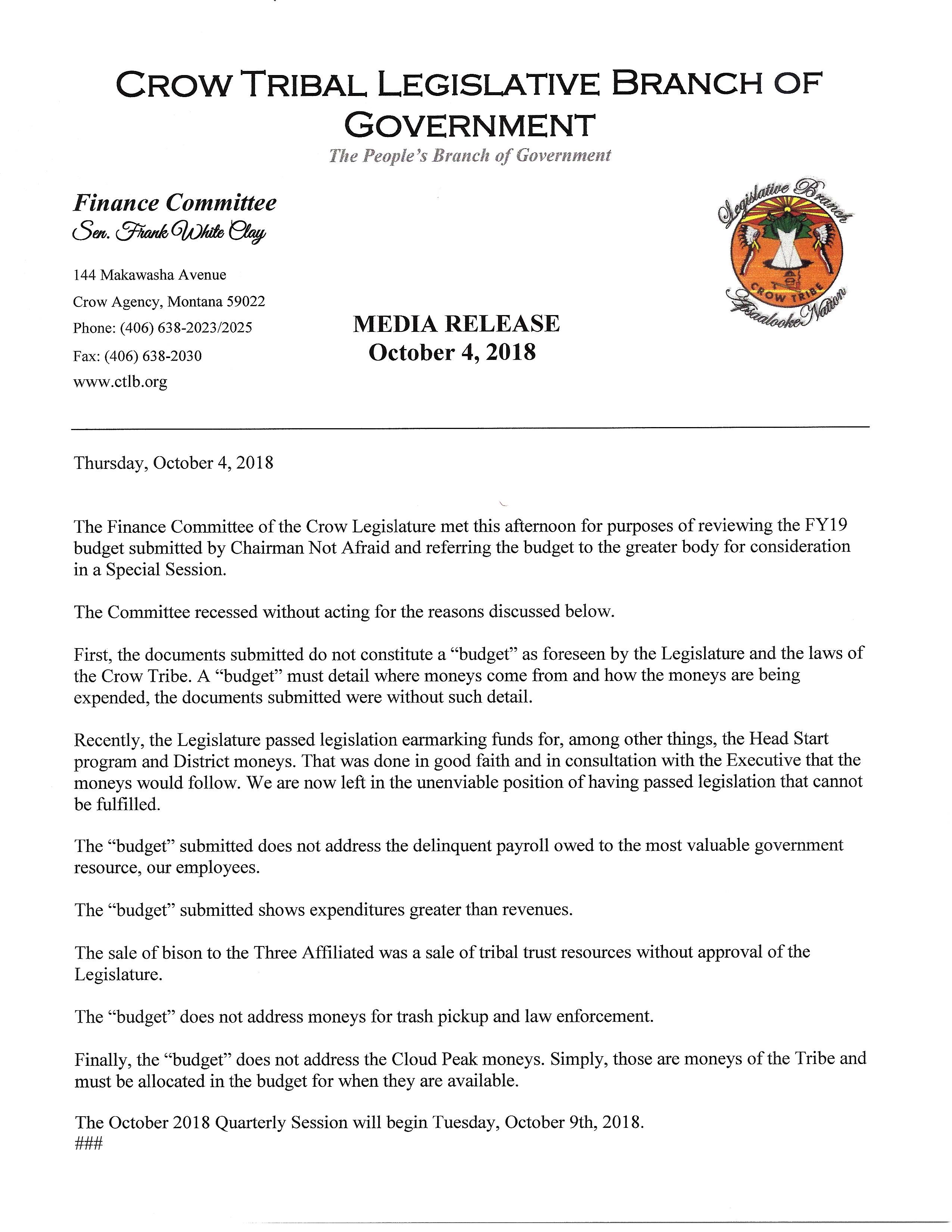 ---
Public Notice of Special Session Oct 4, 2018
October 03, 2018
Public Notice of Special Session
---
Public Notice of July 2018 Quarterly Session
July 03, 2018
Click on link for Public Notice
---
Notice from Executive Branch of General Council Meeting
June 27, 2018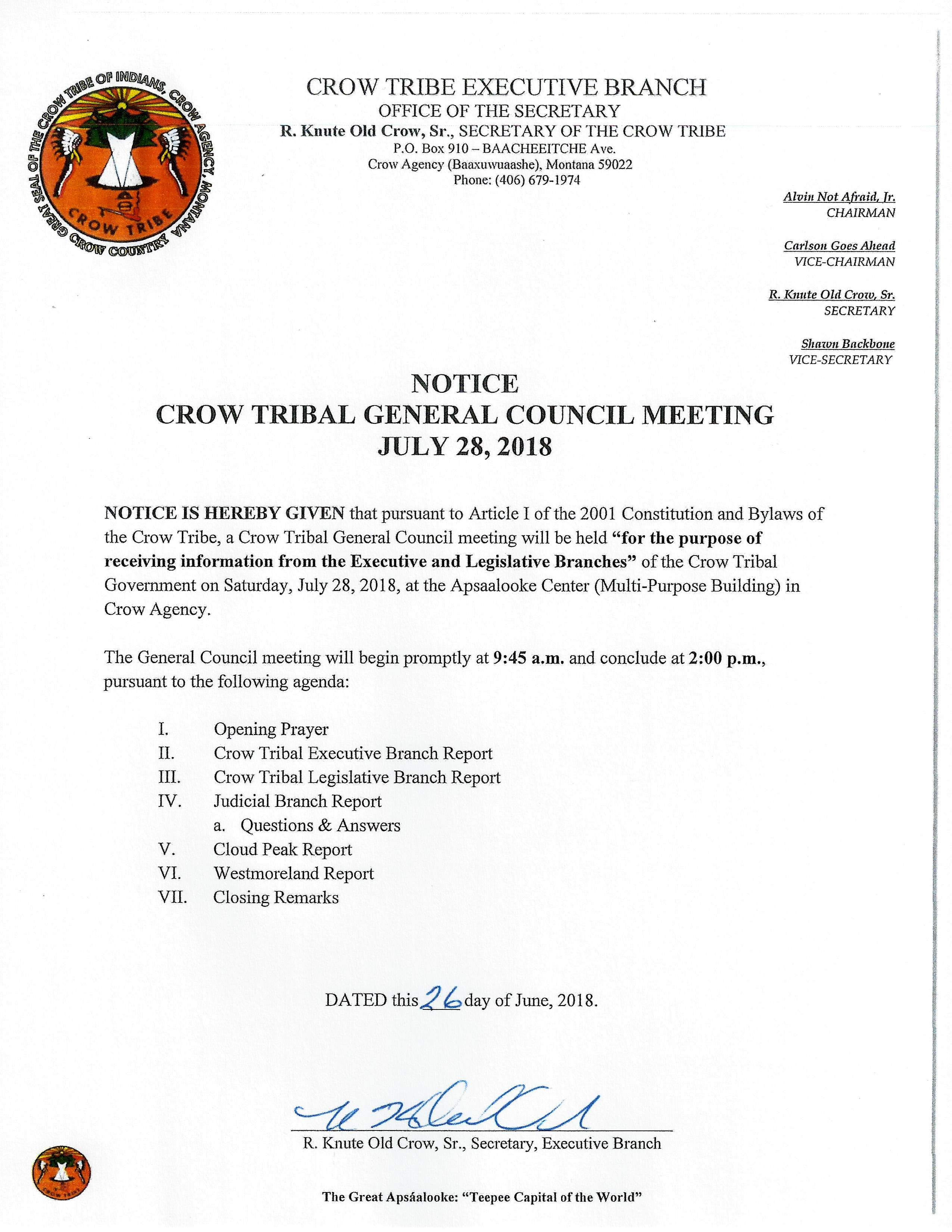 ---
Official Media Release
June 19, 2018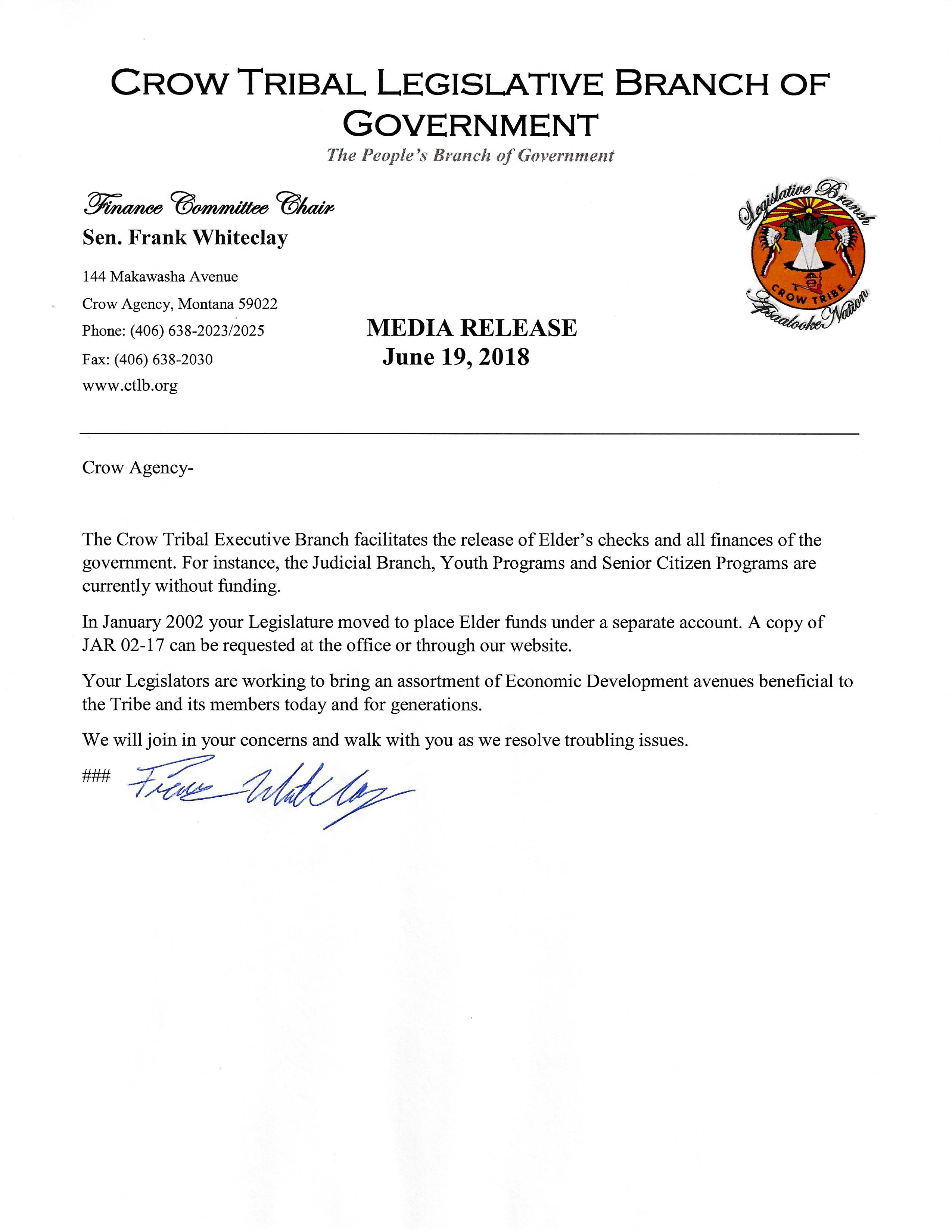 ---
Public Notice: Upcoming dates to remember
June 14, 2018
---
Public Notice of Special Session-Thursday, June 7th, 2018
June 04, 2018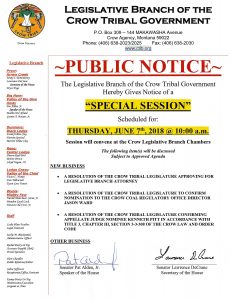 ---
Public Notice: Enrolled Crow membership may change their Voting District beginning June 1st to Sept 30th
May 30, 2018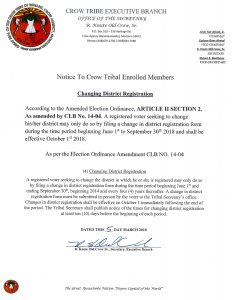 ---
Public Notice of Special Session April 27, 2018
April 25, 2018
Click for Public Notice
---
April 2018 Regular Quarterly Session Public Notice
March 28, 2018
Public Notice (pdf) of the April 2018 Regular Quarterly Session
---
Public Notice of Deadlines for April 2018 Session
March 13, 2018
---
POSITION ANNOUNCEMENT – LEGISLATIVE ATTORNEY
March 06, 2018
POSITION ANNOUNCEMENT – LEGISLATIVE ATTORNEY
 
Crow Tribe of Indians
Legislative Branch of Government
Crow Agency, Montana 59022
Crow Indian Reservation
 
The Crow Tribal Legislature is seeking proposals for an attorney position. Interested applicants must provide a written proposal which includes each of the following:
Resume (education, work history, licenses and certifications)
Letter of Interest (2pages or less); and
Description of expected compensation and available time commitment, along with an indication of whether there is any preference by the applicant to work on a contract basis or as a member of staff.
This position will require education and experience necessary to successfully provide legal services to the Crow Tribal Legislature which includes legal research and writing, drafting and review of proposed tribal legislation, legal assistance during legislative meetings, and legal training for the Branch. This position requires a strong understanding of federal Indian law, Crow Tribal law, and parliamentary procedure. Candidates must be admitted to practice law and in good standing in Montana and be willing to seek admission to the Crow Tribal Bar. Indian and Crow Tribal preference shall apply.
All materials should be addressed to the Crow Tribal Legislature at the following address:
Legislative Branch of Government
Crow Tribe of Indians
P.O. Box 309
Makawasha Avenue
Crow Agency, MT 59022
Material will be accepted until the position is filled. The Legislature is seeking to fill the position as soon as practical. For Application information please call: 406-638-2023
---
Public Notice of Special Election and Candidate Filing Deadline For the Crow Nation Legislative Branch
March 05, 2018
---
Public Notice of January 2018 Regular Quarterly Session
January 04, 2018
Public Notice: January 2018 Quarterly Session
---
Public Notice for Inauguration Dec 4, 2017
November 16, 2017
---
2017 Legislative & Judicial General Election Results
November 14, 2017
2017 Legislative General Election Results
2017 Judicial General Election Results
---
Special Session Wednesday, November 1st, 2017
October 30, 2017
Click here for Public Notice and Agenda Items
---
Fiscal Year 2018 passed during October Session & Pending Executive Action
October 24, 2017
On Thursday, October 12, 2017 CLB 17-04 "Approval of the Annual Budget for the Operation of the Crow Tribal Government and the Expenditure of Tribal Revenue for Fiscal Year 2018" passed during the October Regular Session with a unanimous vote of 16 in favor of passage.
In accordance with CLB 06-08 the Budget Bill has been transmitted to the Executive Branch Chairman for approval or veto.###
---
Certified Notice of the Legislative Branch Primary Election Results
October 16, 2017
Click here for certified notice
---
Public Notice: Housing Ordinance Public Comment
October 06, 2017
Pursuant to the new Housing Ordinance, the housing regulations require that they be available to the public for the next thirty (30) days for public comment. The deadline for public comment is November 4, 2017. The Ordinance is a large document and is divided into several portions below.
Public Comments may be submitted to the Housing Board or to the Legislative Branch.
Apsaalooke Nation Housing Authority Policies:
Part 1 – Cover, Legislative Resolution, Board Resolution
Part 2-Policies, Title 19 CLOC Housing Ordinance
Part 3-Admissions & Occupancy (1st Section)
Part 3-Admissions & Occupancy (2nd Section)
Part 9-Real Property Acquisition
---
Public Notices: October 2017 Quarterly Session & Special Session Oct 11, 2017 (re: FY2018 Budget)
October 05, 2017
Public Notice of October 2017 Quarterly Session
Public Notice of Special Session Oct 11, 2017
---